Professional Fire Extinguisher Inspection Service since 1987
Professional Fire Extinguisher Inspection Service since 1987
Fire Extinguisher Inspection | Los Angeles and Orange County
Fire Extinguisher Inspection | Los Angeles and Orange County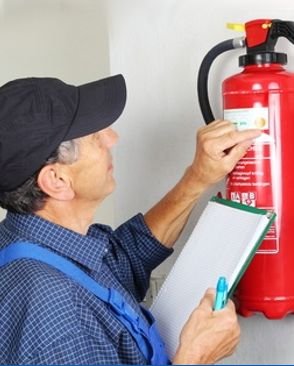 Periodic Fire Extinguisher Inspections ensure their proper operation during the time when they are mostly needed and help the businesses remain in compliance with the fire and safety regulations.


Our FIRE EXTINGUISHER INSPECTION service will verify and ensure the following:
Your fire extinguishers are located in their designated places.
No obstruction to access or visibility.
Operating instructions on nameplate legible and facing outward.
Safety seals and tamper indicators not broken or missing.
Examine for no obvious physical damage, corrosion or leakage.
No clogged nozzle.
Pressure gauge reading or indicator in the operable range or position.
Fullness determined by weighing.
For non-rechargeable extinguishers using push-to-test pressure indicators, test the indicator.
Check the last service date of periodic hydro test.
Same day service available / Fully equipped mobile units.
The Spectrum
Promise
Our technicians are professionally trained to inspect and maintain your fire extinguishers in accordance with the State Fire Marshal Guidelines and Title-19, Public Safety Regulations.

Free Survey & Assessment of Workplace


Competitive Pricing


Quality Service


Quality / Certified Components


Discount per Quantity


Quick Dispatch


Same Day Service available
The Spectrum
Difference
Spectrum Fire Protection serves the Los Angeles and Orange Counties since 1987. We are licensed, bonded & insured in the Greater California Region for commercial, industrial, and residential services.

30 Years of Experience


Advanced Planning


Efficiency and Reliability


Punctuality


Professionalism


Team Work Coordination


Courteous and friendly employees
Our Fire Extinguisher Inspection Service is rated A+ by the Better Businesses Bureau.
Our technicians will perform Professional Fire Extinguisher Inspection Service. Upon completion, we will provide you with a record form of the inspection and will make any recommendations necessary to keep your workplace in compliance when conditions change due to upgrades or expansions.
Spectrum is a qualified contractor that provides professional Fire Extinguisher Inspection Service in Los Angeles and Orange County.
Call Us to our toll free number for a no obligation free quote.
FILL THIS FORM AND RECEIVE A FREE QUOTE WITH THE BEST POSSIBLE PRICE
Providing Professional Fire Extinguisher Inspection Service since 1987.
Our Office
1330 E. Orangethorpe Ave
Fullerton, CA 92831
Toll Free: (866) 441-2421
Fax: (714)-213-8579