Fire Extinguisher Sales | Los Angeles and Orange County
Fire Extinguisher Sales | Los Angeles and Orange County
Our Fire Extinguisher Sales service supplies major brands of fire extinguishers and offers them at low and affordable prices. Our extinguishers are manufactured for durability and to meet variety of commercial, industrial and residential uses. They are rechargeable and reusable.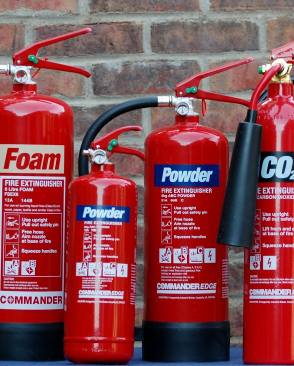 SPECTRUM FIRE EXTINGUISHER SALES SERVICE will include the following with your purchase:

  Free certification with the purchase good for one year.


  Free delivery with quantity purchase within 50 miles from our offices.


  Free fire extinguisher sticker sign with our low cost installation fee.
OUR FIRE EXTINGUISHERS ARE

RECHARGEABLE AND REUSABLE

.

The following table explains the classes of fire hazards and the appropriates types of fire extinguishers used to fight them in case of fire.
Please select the type of extinguisher you need in your workplace or home and don't hesitate to call our toll free number consultation.

Fire Extinguisher Sales chart
[table id=1 responsive=scroll /]
Our Office
1330 E. Orangethorpe Ave
Fullerton, CA 92831
Toll Free: (866) 441-2421
Fax: (714)-213-8579