Professional Fire Extinguisher Training Service since 1987
Professional Fire Extinguisher Training Service since 1987
Fire Extinguisher Training | Los Angeles and Orange County
Fire Extinguisher Training | Los Angeles and Orange County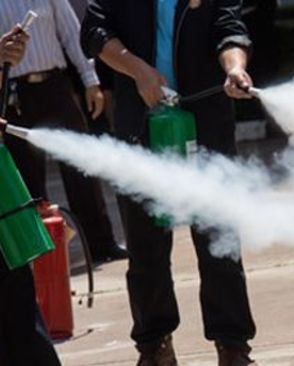 A typical fire extinguisher contains only 10 seconds of extinguishing power. It could be even less if the extinguisher has been partially discharged. It's proper use, will make those critical seconds count, saving lives and valuables.
SPECTRUM has at your disposal a complete Fire Extinguisher Training program which includes:
Training Videos.
Fire extinguisher briefing on the classes of fire hazards and the types of extinguishers to fight them.
Live instructions on how to use the extinguisher safely.
Live display and demonstration.
Opportunity to discharge fire extinguisher by every employee during the group session.
Certificate of fire extinguisher training issued by our company to each trainee.
Affordable group rates.
Affordable group rates / Friendly and courteous instructors.
The Spectrum
Promise
Spectrum Fire protection will provide professional and affordable on-site Fire Extinguisher Training service, to help you ramain in accordance with the State Fire Marshal Guidelines and Title-19, Public Safety Regulations.
We are committed to provide you:

Friendly and courteous instructors


Quality service


Quick dispatch


Same Day Service (if available)


Affordable group rates
The Spectrum
Difference
Spectrum Fire Protection serves the Los Angeles and Orange Counties since 1987. We are licensed, bonded & insured to provide Professional Fire Extinguisher Training in the Greater Southern California Region.

30 Years of experience


Advanced Planning


Efficiency and Reliability


Punctuality


Team Work Coordination


Continuous Learning
Our Fire Extinguisher Training Service is rated A+ by the Better Business Bureau.
Spectrum Fire protection provides affordable On-Site Fire Extinguisher Training. Don't let your work place be at risk. Spread of fires could take away lives, properties and cause bodily injuries. Training yourself and your employees on how to use fire extinguishers will increase your chances of fighting the fires successfully before they spread and help you avoid the losses associated with them.
If you have a safety program in your workplace and haven't included Fire Extinguisher Training in your program yet, call our toll free number to obtain additional information about our group rates.
Spectrum is a qualified contractor that provides professional Fire Extinguisher Training Service in Los Angeles and Orange County.
Call Us to our Toll Free number for a no obligation Free Quote.
FILL THIS FORM AND RECEIVE A FREE QUOTE WITH THE BEST POSSIBLE PRICE
Providing Professional Fire Extinguisher Training since 1987.
Our Office
1330 E. Orangethorpe Ave
Fullerton, CA 92831
Toll Free: (866) 441-2421
Fax: (714)-213-8579