Professional Fire Hydrant Repair Service since 1987
Professional Fire Hydrant Repair Service since 1987
Fire Hydrant Repair | Los Angeles and Orange County
Fire Hydrant Repair | Los Angeles and Orange County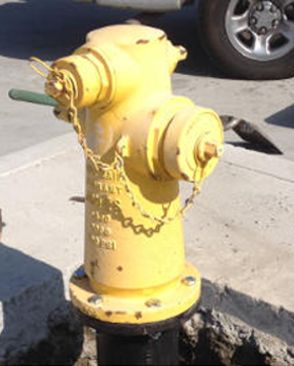 SPECTRUM performs the following types of  OF  FIRE HYDRANT REPAIRS:
Broken hydrants / Collision damage
Leaky or inoperable hydrant valves
Broken or jammed underground key valve
Missing or stolen parts
Leaky underground fire lines that supply water to the hydrants
Obstructed fire hydrant access
Corroded or faded paint
Upon your request, out team will do the following:
Assess the damage
Provide free estimate
Create action plan
Schedule the repair upon your approval
Providing Professional Fire Hydrant Repair Service since 1987.
The Spectrum
Promise
Our technicians will provide professional Fire Hydrant Repair Service in accordance with the State Fire Marshal Guidelines, Title-19, Public Safety Regulations and NFPA 25.

Free survey & assessment of workplace


Competitive pricing


Quality service


Quick dispatch


Efficiency and Reliability


Same Day Service available
The Spectrum
Difference
Spectrum Fire Protection serves the Los Angeles and Orange Counties since 1987. We are licensed, bonded & insured in the Greater  Southern California Region for commercial, industrial, and residential services.

30 years of experience


Advanced Planning


Punctuality


Friendly and Courteous Employees


Team Work Coordination
Spectrum Fire protection Service is rated A+ by the Better Business Bureau.
Damaged or leaky fire hydrants can cause major concerns for business or property owners. Choosing the right Fire Hydrant Repair Service  company to fix them is essential to obtain optimum results at the appropriate cost. Experienced and licensed contractor can save you time and aggravations. Spectrum Fire Protection has a reputable record in repairing and maintaining fire hydrants.
Our trained technicians will make sure that your Fire Hydrant Repair Service is performed the right way to keep them operating at optimum performance levels. Spectrum's teams will be there to help our valued customers deal with needed repairs at the lowest cost possible.
Call us to schedule an appointment and obtain free no obligations estimate.
FILL THIS FORM AND RECEIVE A FREE QUOTE WITH THE BEST POSSIBLE PRICE
Providing Professional Fire Hydrant Repair Service since 1987.
Our Office
1330 E. Orangethorpe Ave
Fullerton, CA 92831
Toll Free: (866) 441-2421
Fax: (714)-213-8579