Professional Fire Hydrant Testing Service since 1987
Professional Fire Hydrant Testing Service since 1987
Fire Hydrant Testing | Los Angeles and Orange County
Fire Hydrant Testing | Los Angeles and Orange County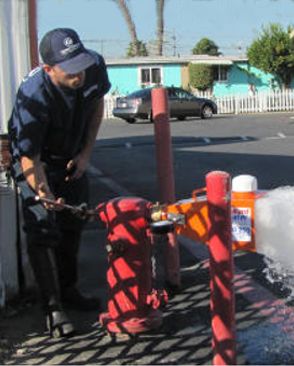 Our FIRE HYDRANT TESTING procedure is performed as follows:
Select the two hydrants chosen by your water purveyor or public works dept.
Find the downstream direction of water.
Take the static pressure reading from both hydrant.
Use hydrant 1 for pitot gauge reading.
Select hydrant 2 to obtain residual pressure.
Perform the flow test using calibrated pressure gauges.
The test requires a crew of two technicians to be completed successfully and accurately. Upon completing the flow test, our crew will provide you with the test results, the conversion rate and the documentations needed to be assessed by the water purveyor.
Spectrum Fire Protection Services is rated A+ by the Better Business Bureau.
The Spectrum
Promise
Our technicians will provide professional Fire Hydrant Testing Service in accordance with the State Fire Marshal Guidelines, Title-19, Public Safety Regulations and NFPA 291.

Survey & assessment of workplace


Competitive pricing


Quality service


Quick dispatch


Efficiency and reliability


Same Day service available
The Spectrum
Difference
Spectrum Fire Protection serves the Los Angeles and Orange Counties since 1987. We are licensed, bonded & insured in the Greater Southern California Region for commercial, industrial, and residential services.

30 years of experience


Advanced planning


Punctuality


Continuous learning


Team work coordination
Call us or Contact us to schedule an appointment and obtain free no obligations estimate.
Spectrum Fire Protection provides Professional Fire Hydrant Testing Service in accordance with NFPA 291, This code establishes that all fire hydrants must be inspected and tested at least annually. The same regulation also establishes that a Flow Test must be conducted every 5 years.
Fully open, a Fire Hydrant must maintain minimum volume of water flow at a pressure that must not go below what the local fire jurisdiction requires. Fire Hydrant Testing must be done on an annual basis and when your local jurisdiction demands it or ask for water availability record. This becomes important especially when you are planning expansion or new construction.
Our experienced technicians are ready to perform high quality Fire Hydrant Testing service and provide you with the documentations needed for your water purveyor to make final assessment of the water availability at the required rate. Our trained technicians will make sure that your Fire Hydrant Testing Service is performed the right way, at the right intervals.
Call us to schedule an appointment and obtain free no obligations estimate.
FILL THIS FORM AND RECEIVE A FREE QUOTE WITH THE BEST POSSIBLE PRICE
Providing Professional Fire Hydrant Testing Service since 1987.
Our Office
1330 E. Orangethorpe Ave
Fullerton, CA 92831
Toll Free: (866) 441-2421
Fax: (714)-213-8579