Fire Pump Inspection Los Angeles and Orange County
Fire Pump Inspection Los Angeles and Orange County
Spectrum Fire Protection technicians are adequately trained to provide you a quality and affordable Fire Pump Inspection Service in accordance with NFPA 25. We will ensure that your fire pumps meet their rated specifications and all inspection results with graphic representation are documented and provided to the owners.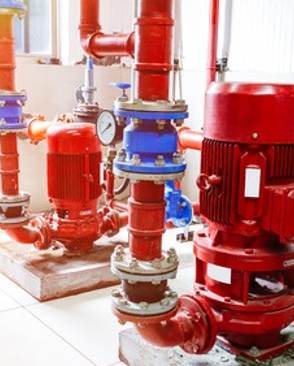 Our FIRE PUMP INSPECTION includes the following:
Fire pump components and jockey pump.
Fire pump controller.
Header and back-flow preventer.
Operation of ventilation louver.
Cleanliness of the pump room.
Clearance.
Alignment of sensing line and pump shaft.
Availability of weekly, bi-monthly or annual performance records.
Proper heating.
Valves.
Gauge readings.
Electrical system conditions.
The Spectrum
Promise
Our technicians will provide professional Fire Pump Inspection Service in accordance with the State Fire Marshal Guidelines and Title-19, Public Safety Regulations.

Survey & assessment of workplace


Competitive pricing


Quality service


Quick dispatch


Efficiency and reliability


Same Day service available


Courteous and friendly employees
The Spectrum
Difference
Spectrum Fire Protection serves the Los Angeles and Orange Counties since 1987. We are licensed, bonded & insured in the Greater  Southern California Region for commercial, industrial, and residential services.

30 years of experience


Advanced planning


Punctuality


Experience


Team work coordination


Continuous learning
Our trained technicians will make sure that your Fire Pump Inspection Service is performed the right way, at the right intervals.
Call us to schedule an appointment and obtain free no obligations estimate.
Providing Professional Fire Pump Inspection Service since 1987.
Our Office
1330 E. Orangethorpe Ave
Fullerton, CA 92831
Toll Free: (866) 441-2421
Fax: (714)-213-8579