Fire Pump Testing Los Angeles and Orange County
Fire Pump Testing Los Angeles and Orange County
Spectrum Fire Protection provides high quality and affordable Fire Pump Testing Service. Our highly trained and qualified technicians, will professionally perform the following tasks in accordance with NFPA 25 to ensure that your fire pump system is 100% operative: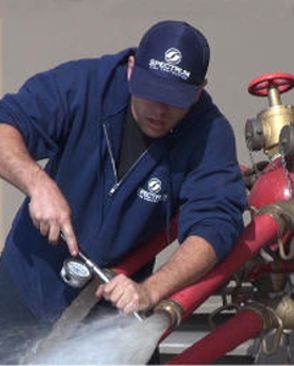 Our FIRE PUMP TESTING service includes the following:
Manual and automatic start test.
Remote start test.
Flow test at churn, 100% and 150% of the pump's rated flow.
Voltage and Amp reading of every test if the driver is electrical.
RPM reading during the tests.
Inspect the engines and batteries if the driver is diesel engine.
Provide written manufacturer's information and ratings.
Provide graphical chart of the test result relative to the pump's ratings.

According to  NFPA 25, all fire pumps must be flow tested after initial installation. Thereafter, an annual test is required.
The Spectrum
Promise
Our technicians will provide professional Fire Pump Testing Service in accordance with the State Fire Marshal Guidelines and Title-19, Public Safety Regulations.

Free survey & assessment of workplace


Competitive pricing


Quality service


Quick dispatch


Efficiency and Reliability


Same Day Service available
The Spectrum
Difference
Spectrum Fire Protection provides Fire Pump Testing Service in the Los Angeles and Orange Counties since 1987. We are licensed, bonded & insured in the Greater  Southern California Region for commercial, industrial, and residential services.

Over 30 years of experience


Advanced Planning


Punctuality


Experience


Team Work Coordination
Our Fire Pump Testing Service also provides our clients with everything from basic inspection and testing to maintenance and repair.
Spectrum Fire protection is a leading Fire Pump Testing Service provider in Los Angeles and Orange Counties.
More than 30 years of experience set us apart from the competition.
Call us to schedule an appointment and obtain free no obligations estimate.
Providing Professional Fire Pump Testing Service since 1987.
Our Office
1330 E. Orangethorpe Ave
Fullerton, CA 92831
Toll Free: (866) 441-2421
Fax: (714)-213-8579