Fire Sprinkler Five Year Certification Service since 1987
Fire Sprinkler Five Year Certification Service since 1987
Fire Sprinkler Five Year Certification | Los Angeles and Orange County
Fire Sprinkler Five Year Certification | Los Angeles and Orange County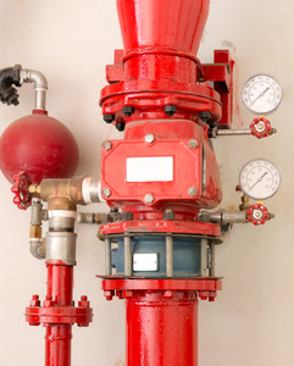 Our FIRE SPRINKLER FIVE YEAR CERTIFICATION / INSPECTION includes the following:
Main drain test during which the static, residual and restored pressures are recorded.
Inspector's test valve activation during which the alarm bell is tested and records of the alarm monitoring activities are taken.
Operating and testing all control valves and ensure that they are secured from tampering.
Visually inspecting pipes and fittings are clear of corrosion or damage.
Visual inspection of fire sprinkler heads, hangers and seismic bracings.
Verify that the periodic UL lab tests Aon fire sprinkler heads were done on timely fashion.
Verify proper sprinkler coverage throughout the premises.
Inspect for damages or obstructions that could potentially hinder the proper operation of the sprinkler systems.
Ensure the presence of signage as required by the jurisdiction.
Provides compliance report for record keeping.
Perform back flush by reversing check valve at fire department connection.
Provide reports of each system on state's form (AES2) or local jurisdiction form.
Our Fire Sprinkler Five Year Certification Service is rated A+ by the Better Business Bureau
The Spectrum
Promise
Our technicians will provide Professional Fire Sprinkler Five Year Inspection and Certification Service in accordance with the State Fire Marshal Guidelines and Title-19, Public Safety Regulations.

Furvey & assessment of workplace


Competitive pricing


Quality service


Quick dispatch


Efficiency and reliability


Same Day Service available
The Spectrum
Difference
Spectrum Fire Protection serves the Los Angeles and Orange Counties since 1987. We are licensed, bonded & insured in the Greater  Southern California Region for commercial, industrial, and residential services.

30 years of experience


Advanced Planning


Punctuality


Experience


Team Work Coordination
Our Fire Sprinkler Five Year Certification Service is rated A+ by the Better Business Bureau
As a member of National Fire Protection Association and a licensed fire sprinkler contractor, Spectrum Fire Protection technicians will perform a Professional Fire Sprinkler Five Year Inspection / Certification of your systems in accordance with NFPA 25.
Upon completion of the inspection and testing and upon verifying that the property is in compliance with the Title-19 and NFPA 25, the technicians will affix certification label on each system tested. In case any deficiencies were found during testing, the certification will be held until all corrections were completed by the property owner or tenant.
If you have additional questions about our Fire Sprinkler Five Year Inspection / Certification service,  feel free to reach us using the Contact Form or call us to our TOLL FREE phone number and obtain a free no obligation estimate.
Providing Professional Fire Sprinkler Five Year Certification Service since 1987
Our Office
1330 E. Orangethorpe Ave
Fullerton, CA 92831
Toll Free: (866) 441-2421
Fax: (714)-213-8579