Industrial Spray Booth Fire Suppression Systems since 1987
Industrial Spray Booth Fire Suppression Systems since 1987
Industrial Spray Booth Fire Suppression Systems
Industrial Spray Booth Fire Suppression Systems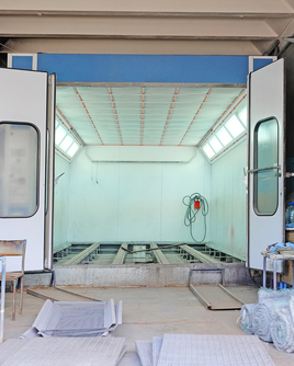 Our industrial SPRAY BOOTH FIRE SUPPRESSION SYSTEMS INSPECTION AND TESTING services includes the following:
Functional testing and visual inspection.
Manual Actuation Test.
Automatic Actuation Test.
Fuel Shut-off Verification (for spray booth equipped with heater).
Manufacturer's Specification Compliance.
Fusible Links Replacement.
Clearance Compliance.
Hydrostatic Testing.
The system shut off the exhaust fan before discharging.
Spray nozzles are located in the proper locations and unclogged.
Successful completion of the inspection and testing of the system will grant you a six-month certification and a compliance report available upon request by your local jurisdiction.
Spectrum Fire Protection is rated A+ by the Better Business Bureau
The Spectrum
Promise
Our technicians will test and inspect your Spray Booth Fire Suppression Systems  in accordance with the State Fire Marshal Guidelines,  Public Safety Regulations and NFPA 17A.

Survey & assessment of workplace


Competitive pricing


Quality service


Quick dispatch


Efficiency and Reliability


Same Day Service available
The Spectrum
Difference
Spectrum Fire Protection serves the Los Angeles and Orange Counties since 1987. We are licensed, bonded & insured in the Greater  Southern California Region for commercial, industrial, and residential services.

30 years of experience


Advanced Planning


Punctuality


Courteous and friendly employees


Team Work Coordination
Spectrum Fire Protection is rated A+ by the Better Business Bureau
Industrial Spray Booth suppression systems are essential in various industries such as body shops and powder coating. There are open and closed types of spray booths. Both require fire suppression systems due to the volatile nature of spray paints and other chemicals. Maintaining these systems by licensed contractors is required by local and state jurisdiction.Therefore, a qualified service could keep the systems functioning properly and ready for use when necessary. Call us to schedule an appointment and obtain free no obligations estimate.
FILL THIS FORM AND RECEIVE A FREE QUOTE WITH THE BEST POSSIBLE PRICE
We test and inspect Industrial Spray Booth Fire Suppression Systems since 1987.
Our Office
1330 E. Orangethorpe Ave
Fullerton, CA 92831
Toll Free: (866) 441-2421
Fax: (714)-213-8579