Kitchen Hood Fire Suppression Systems
Kitchen Hood Fire Suppression Systems
Spectrum Fire Protection specializes in the installation, service and maintenance of Kitchen Hood Fire Suppression Systems. Our technicians are ready to inspect and test your systems in accordance with NFPA 17A: Standard for Wet Chemical Extinguishing Systems.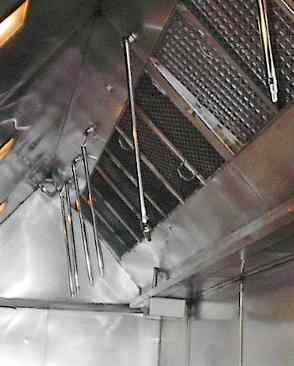 OUR KITCHEN HOOD FIRE SUPPRESSION INSPECTION SERVICE includes the following:
Functional Testing and visual inspection.
Manual Actuation Test.
Automatic Actuation Test.
Fuel and Power Shut-off Verification.
Manufacturer's Specification Compliance.
Fusible Links Replacement.
Clearance Compliance.
Hydrostatic Testing.
Verification of UL-300 Compliance (for kitchen fire suppression systems).
Upon successful completion of the inspection and testing, our technicians will provide you with six-month certification as required by the State Fire Marshal and Title-19 Public Safety Regulations.
The Spectrum
Promise
Our technicians will provide professional Kitchen Hood Fire Suppression Systems service in accordance with the State Fire Marshal Guidelines,  Public Safety Regulations and NFPA 17A.

Survey & assessment of workplace


Competitive pricing


Quality service


Quick dispatch


Efficiency and Reliability


Same Day Service available
The Spectrum
Difference
Spectrum Fire Protection serves the Los Angeles and Orange Counties since 1987. We are licensed, bonded & insured in the Greater  Southern California Region for commercial, industrial, and residential services.

30 years of experience


Advanced Planning


Punctuality


Courteous and friendly employees


Team Work Coordination
Kitchen Hood Fire Suppression Systems are mandatory in commercial kitchens. They must be maintained in good operational order and ready for use when necessary. Kitchen fires in restaurants are potent and must be dealt with immediately. The fire suppression systems available today are designed to activate manually and automatically and the kitchen's staff must be trained on how to use them should the circumstances required them.
Call us to schedule an appointment and obtain free no obligations estimate.
Spectrum specializes in the installation, service and maintenance of Kitchen Hood Fire Suppression Systems since 1987.
Our Office
1330 E. Orangethorpe Ave
Fullerton, CA 92831
Toll Free: (866) 441-2421
Fax: (714)-213-8579